For individuals who are suffering pain or stiffness, massage therapy is considered a working treatment without medicines. And, with the word "massage," you can easily visualise what exactly it looks like. You may visualise a man or woman's face down on a padded table with bareback while a massage therapist applies massage on them.
However, it is the common scenario of massage, but there are many more techniques. Hot stone massage therapy is one of the techniques. Whenever you heard about this massage, you may not visualise it as the traditional massage. You may think of massaging with the stone, but it is much different than the regular counterpart.
In this article, we will explain every possible detail you need to know about hot stone massage therapy as well as its training courses in London.
What is hot stone massage therapy?
Hot stone massage therapy is a type or branch of massage which has been a regular practice for thousands of years by many cultures all over the world. However, it is considered one of the most relaxing massage practices.
The hot tone massage procedure includes Basalt lava stones that are placed in the high warm water to heat it up. Next, Basalts lava stones are placed in a different part of the body. Some of the body parts where stones can be placed are-
🟠 On the back, sides of your spines.

🟠 Abdomen, legs, or feet.

🟠 Hands' palm.

🟠 Other places where your body feels safe.
Hot stones are usually used as a heated tool though your therapist will massage the areas of your body parts that contain more tension. The heat passes from the stones can make your muscle relax, which eventually gives soothe feeling in your body. 
What does a hot stone massage include?
There is a misconception that hot massage is very painful. It is assumed because the stones are hot, and that may burn the skin. However, it is not the case. The stones are heated under a certain temperature, which is controlled properly. Besides, the therapist also makes sure that the temperature doesn't exceed.
Usually, the temperature remains between 110–130-degree Fahrenheit, which doesn't cause any harm to the body. However, everyone has a different pain tolerance level, so you should notify your therapist right away if you feel pain at any point in time. In the beginning, you may feel a little bit of pain until the skin gets adjusted.
After the hot stones are placed on your body, it may take few minutes for your body to get adjusted. Within few minutes, your body will feel the heat via a towel or sheet.
Normally, massage oil is applied to the body. The therapist holds the stones with both hands while moving them on our muscles. Besides, the massage therapist applies the Swedish massage strategy on your back, neck, legs, and shoulders before placing the stones or after the stones are removed.
The regular hot stone massage therapy is 60-90 minutes. However, each therapist or massage center may offer its own versions.
Conair hot stone massage spa kit "Buy Now"
Is hot stone massage good for you?
The hot stone massage has a similarity with traditional massage therapy. However, the only difference is the hot stones.
Now, the question is, are hot stones beneficial for you?
YES. Hot stones are good for your body. It gives the desired relaxation and relief without getting much pressure on the body. However, it also has some other benefits, which are-
🟢 It eliminates muscle pain or reduces extreme pain.

🟢 It helps to improve joint mobility.

🟢 Improves blood circulation.

🟢 Boost up the functionality of the immune system.

🟢 Increases the lymphatic drainage.

🟢 Depression and anxiety get reduced.

🟢 Muscle tension gets relieved.

🟢 It increases body awareness.
Moreover, some patients may get other benefits too, which includes,
🟣 Can sleep properly.

🟣 It can increase your immune system.

🟣 May relieve symptoms of some diseases such as fibromyalgia.
Who should not take the hot stone massage therapy?
Heated stones can get benefits to most people; however, it is not for all. Some people may have some physical issues, which may not suit the hot massage therapy. So, it is better to consult the therapist first to inform you about your health issues. However, if you have the following health issues, taking a heated massage may not be a good idea.
🟠 High blood pressure

🟠 Pregnant

🟠 Diabetes
So, consulting your doctor as well as the therapist can get you the best advice about taking the stone massage.
These are the stuff you must know about stone massage therapy. But you may get interested in becoming a therapist.
In the next part, we will provide you the guideline to become a hot stone massage therapist.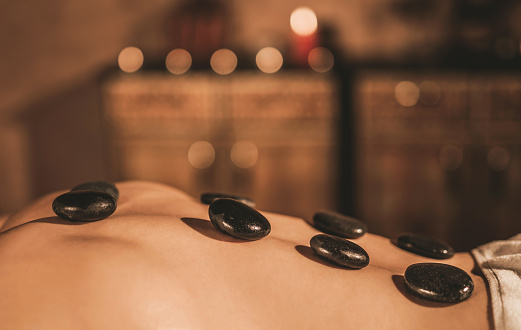 Where to take a hot stone massage therapy course?
You can take the course with an authentic and accredited training center near you. However, you can take the course with D2D Therapies. We provide the 1-day diploma course on hot stone massage therapy, which is well accredited by IPHM and also certified by IPTI.
You can visit our office to register for the course. You may also take the course from your home. In that case, our trainer will visit you at your convenient place and provide the lesson. However, you will have to book your seat or appointment via phone call or email.
You may call or 💬 WhatsApp at 07455045306. Besides, you can also email for the appointment at d2dtherapies@gmail.com. You may contact us for any queries too.
Whether you want to take the course at the venue or home, you will have to pay £30 as a booking fee, which will be adjusted with your regular course fee.
Final Words
We hope this piece of writing enlightens you about the hot stone massage. If you want to get the message or want to take the massage therapy course, come to our London office or contact us anytime.
We are confident that our experienced therapists and trainers can get you the ultimate solution.